Pros
High (99%) RTP
Catchy Design
Easy and Fast gameplay
Cons
Demo version is not available
What is a Chicken Game?
The Chicken Game of Mystake has taken over the whole world. You've probably heard of it. Still, what exactly is Chicken? How did it manage to capture the attention of so many people? What makes it so appealing to players? I've got all the answers. So, let's get started.
Chicken game is a very simple game. It's about testing how lucky you are while also enjoying the rush of taking risks. Who knows where is Chicken hidden beneath the dome? That's the challenge the game offers to its players.
Another reason for the popularity of the chicken is its high profitability. We all enjoy the thrill of winning money, don't we? Chicken pays out a lot. As we found out it has the highest possible, 99% RTP (return to player ratio) at Mystake. Other minigame which offers 99% RTP you can check it out is Mystake roulette Sounds cool, right? It means just 1% is the house edge. The rest of the money in the system is distributed among players.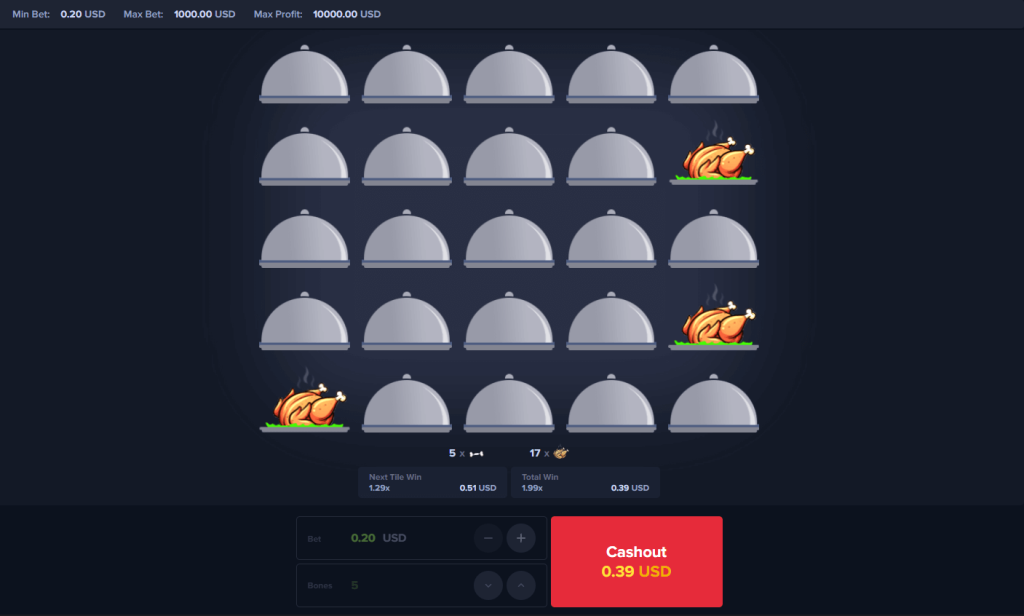 How to play Chicken
You may have seen a video of a famous Mystake Chicken game and wondering how to play it. The truth is – you should play Chicken on MyStake Casino.
Visit MyStake.com Casino
Create your account
Make your First deposit
Open Minigames > Chicken
Choose your bet size and start playing!
First, we should go to Mystake and find Chicken in the minigame section. You'll notice a collection of 25 metal dome-covered plates placed in a 5×5 grid. There are bones and roast chicken images. Below is a small section that shows you how much money you'll earn if you guess the next pick and your overall winnings. At the bottom, you can choose variables – bet amount and number of bones (from 1 to 24).
Since we get to know the game interface, let's move to the next step.
Test Your Luck and Win Big!
Chicken is a game of chance. The whole idea is to guess more chickens and avoid bones at all costs. The game gets difficult based on the risk you take. The multiplier increases in proportion to the number of bones selected.
If you choose, for example, 24 bones, you make the game extremely hard. You have just one Chicken in the round, and if you pick the right plate, your wins will be multiplied by 24.75. It seems like you hit the jackpot. However, given the high risk of loss, that may be a regrettable choice. If you select, for example, 3 bones, you may be able to open more tiles, and in turn, the odds will be lower. The multiplier increases with each pick, so the more spots you guess, the more you can win. Keep in mind that you can cash out at any time.
If you decide to try the most popular game Chicken, I have good news. You can test it without a deposit, then if you are into it, deposit some funds later and play with real money. For a bonus, visit our Bonus Page to find no deposit bonuses for Chicken specially for Lucky Minigames Team.
Winning strategies and techniques in Mystake Chicken game
You might wonder if there is a strategy to win and keep luck on your side. Anyways, Mystake Chicken is a game of chance; your luck is based on the random placement of bones. However, I have some tips. If you take them into account, you have more chances.
Let's get started.
Strategy N1
1) Select 5 bones. Bet amount should be from 0.2 to 1. Bet 4 or 5 times unless you lose. Then make a larger bet, I suggest 20% of your balance. Uncover plates 3 times and cash out. Sometimes you can try the fourth pick if you have a gut feeling. In most cases, it works. However, if the ''damn'' bone shows up, try the same amount the second time. Repeat the same scheme multiple times.
You can earn a great deal of funds like that. Another thing, if you notice that more bones are appearing and you are losing hands, stop. Take a break and get back to Chicken later on.
Strategy N2
2) If you choose more bones, as you know, you are more unlikely to catch Chicken MyStake. Given the risk, just open 1 or 2, maximum 3 tiles, while more than 10 bones are presented in the round. If only 3 bones are selected, a safe bet would be to uncover a maximum of 5 domes. In risky mode, don't open more than 7 spots. Pay attention to the multiplier. It could be better if you reached more than 2X. So you can ensure your win if you lose the next bet.
Strategy N3
3) Actually, I love 5 bones in the round. I have tried the following strategy as well. Keep in mind that it doesn't always work out. That's why we need a bit of luck too.
Once again we set five bones. Then open domes 1 to 3 times. If you win, lower the bet amount and try the same strategy. Go on like that. When the time comes that you lose, don't change the bet amount and open the tiles four times. Step by step, increase the bet amount based on your balance (don't bet more than 20% of your remaining balance)
To sum up, there are some tips to ensure winnings. However, there is no guarantee. It's the game of chance, after all. If you win enough money, learn to stop. Withdraw some funds and leave a desirable amount you will play with later.
Feel free to share your experience and win strategies in the comments below. You can also view other suggestions on our Strategies page.
Play Chicken MyStake Demo
Not sure whether you are ready to play Chicken MyStake with real money or not? Don't worry, there are plenty of places, where you can play it for free, to try the game out, choose your strategies and determine what suits you the best, so don't hesitate and try it out now for free!
Where to play Chicken MyStake game with Bonus?
The chicken game became extremely popular at Mystake casino. At the moment, this game is only available on this website.
You can take advantage of the Chicken Minigame with various bonuses, free spins and free bets which you can find on our Bonus offers page!
How to deposit to play Chicken MyStake
Getting started with the Chicken gambling game on MyStake casino requires a real money deposit. Here, we'll walk you through the process step by step. Pay close attention and follow these instructions precisely.
To begin, identify the available payment options for your country on the casino's website. Different regions offer different methods to cater to their financial systems. MyStake offers a wide range of payment choices including Visa/Mastercard, Netteler, Dinersclub, Webmoney, BTC, PayOp, Ecopayz, Sofort, Qiwi, Skrill, Paysafecard, JCB, Mifinity, Pix, Boleto, USDT, Das, XRP, Eth, and many more. You'll certainly discover the most suitable option for yourself among these.
Step 1: Go to MyStake website and sign up or log in on it.
Step 2: After successfully accessing your account, in the top right corner, you will see a Deposit button, Click on it.
Step 3: Choose your deposit method.
Step 4: Enter the desired deposit amount and click submit.
Step 5: Fill your payment information and that's it – Refresh the page to see the money deposited in your playing account.
How to withdraw your winnings
As widely recognized, a casino's pivotal aspect lies in its user-friendly interface and swift deposit and withdrawal procedures. If you're among the fortunate individuals who have secured winnings while enjoying the Plinko gambling game at MyStake casino and are now eager to withdraw your funds securely, below is a comprehensive step-by-step guide to assist you.
Step 1: Go to MyStake casino website and log in to your account.
Step 2: In the top right corner, you will see your username, indicating your account. Click on it!
Step 3: Navigate through the list given on the left side of your screen and locate "Withdraw Money" button. Click on it!
Step 4: Choose the payment option, you feel most comfortable with, enter the desired withdrawal amount and click on submit.
Step 5: Don't forget to enjoy your winnings!
Users opinion about Chicken MyStake
Our team carefully read consumer reviews and found a definite divide in viewpoints, however both sides agreed that the game had the potential to be thrilling and addictive. Others warn against getting engrossed in the game and risking more than you meant to while some users laud its outstanding features and quick winning potential. However, a recurring theme in the majority of assessments is the fact that getting a big win frequently only takes one wise move. Since gambling can be addicting, as many reviews point out, it's important to gamble sensibly and to only use money you can afford to lose. With this strategy, you can enjoy your gaming without worrying about your budget.
Is Chicken minigame legit?
The chicken MyStake minigame is a prototype of "Mines". It's safe and one of the most reliable games, not to mention the highest possible RTP. The game provider is Upgaming which has created quite a lot of successful minigames such as Dino, Icefield, Wheel, Dice, and so on. If you like fast and entertaining games, Chicken is for you.
FAQ
What is the Mystake Chicken game all about?
Chicken is a minigame available on MyStake Casino, which is a game of chance where players uncover plates in a 5×5 grid trying to find images of roast chickens and avoid bones. Your wins and multipliers depend on how many chickens you find and how many bones you choose to play with at the beginning of each round.
How do you play the Chicken game?
To play Chicken:Visit MyStake Casino and find Chicken in the minigame section.
Decide on your bet size and the number of bones (1-24).
Uncover plates, trying to find chickens and avoid bones.
The multiplier increases with the number of bones selected and how many spots you uncover.
You can cash out your winnings at any time.
How is the profitability in the Chicken game?
Chicken offers a high Return to Player (RTP) ratio of 99%, meaning that only 1% is the house edge, and the rest of the money in the system gets distributed among players, making it quite a lucrative game.
Can you play Chicken without making a deposit?
Yes, you can test Chicken without making a deposit. Once you are comfortable, you can deposit funds and play with real money. There are also various bonuses available which you can find on the Bonus offers page.
Are there any strategies to increase winning chances in Chicken?
Although Chicken is primarily a game of chance, some strategies involve manipulating bet sizes and the number of bones to play with in a manner that manages risk while optimizing potential reward. However, no strategy guarantees a win, so it's vital to play responsibly.
How do I deposit money to play Chicken?
Depositing money on MyStake to play Chicken involves:Signing up or logging into MyStake.
Clicking on the "Deposit" button.
Selecting your deposit method.
Entering your desired deposit amount and payment information.
Refreshing the page to see your deposited money.
How do I withdraw winnings from the Chicken game on MyStake?
To withdraw your winnings:Log into your MyStake account.
Click on your username in the top right corner.
Navigate to "Withdraw Money."
Choose your payment option and enter the withdrawal amount.
Click submit and enjoy your winnings.
Is the Chicken minigame legitimate and safe to play?
Yes, Chicken is provided by Upgaming, a creator of various successful minigames and it's safe and reliable to play. It features one of the highest possible RTPs and offers a secure gaming environment on MyStake Casino.

What are users saying about the Chicken game?
User opinions about Chicken are mixed. Some praise its entertaining features and quick winning potential, while others warn about its addictiveness. Regardless of the outcome, many users agree that gambling should be done responsibly and within one's budget.
Can I play the Chicken game with a bonus?
Yes, you can play the Chicken Minigame using various bonuses, free spins, and free bets available on MyStake Casino. Specific offers can be found on the Bonus offers page
here can I play the Chicken minigame?
Currently, the Chicken minigame is exclusively available on the MyStake casino website.