Pros
High RTP
Fun Gameplay
Smooth sound effects
Live Chat
Can bet twice per run
About the Dino Minigame
The Dino Crash Game has become a visit card for the MyStake casino. Millions of players worldwide enjoy watching a cute dinosaur run, gaining multiplayers until being hit by a meteor. Crash games are extremely popular among casino users. Dino stands among the most famous crash games like JetX, Aviator, Crash, Blast, and others. The gameplay is basically the same, but the difference is that the MyStake Dino has the highest possible – 96% RTP
What is the RTP and how do crash games work?
RTP is an acronym for "Return To Player". Each casino minigame or slot game has a designated RTP percentage, which may be hidden or revealed for player. MyStake Minigames RTP is revealed in the game's about window – There's nothing to hide when the RTP is the highest in the market!
The Return To Player Percentage indicates what percent of the total bet amount should be returned to players. The profit of the casino is calculated with the formula: Total Bets – RTP percentage, meaning that when the Dino game RTP is set to 96%, casino takes 4% of the total bets and the rest 96% is shared to the players. However, the multiplayer amount when the Dino is crashed is still randomized.
WELCOME CASINO BONUS
UP TO
1500 €/$
Where Can I Find Dino Minigame with Bonus?
The Dino Crash Minigame can be found on MyStake and other online casino brands. In order to play, you should first Register and Deposit (FIAT Currencies or Crypto like Bitcoin, USDT, Ethereum, etc) on an Online Casino, because you're betting a real money on each round (Learn How to Deposit and Withdraw in an Online Casino). You can enjoy playing this game with various bonuses that online casinos offer. MyStake offers 10 Free Runs on Dino for any amount of deposit, as well as 100% Minigames Welcome Bonus to double your chances. You can take advantage of Dino MyStake by using our promo code on signup which gives you 5 Free Runs without deposit to try the game!
Why should you choose Dino MyStake?
When you first stumble upon the great Dino MyStake game, you might wonder what the difference is between this and other similar crash games like Aviator and JetX. The answer is simpler than you think.
First of all let's point out that it has the highest available RTP of 96% as mentioned above. Secondly, it has more of a calming and eye comforting design. If you look deeper, the Dino Casino game tells you an ancient story of a dinosaur, trying to find his way out of the meteor rain. You as a player are a supporter of that dinosaur, your best wish is for Dino to run as fast and as far as he can. This will be good for both you and Dino as well. For you this means that you've already won some money and for Dino MyStake, it's a hope of one day escaping the loop and finally outrunning the meteorites. Dino Casino game's success means your success straightforward. So do not hesitate anymore, the more chances you give Dino to escape the higher your chances are to WIN!
How to Deposit on Dino Casino?
If you already like what you've read and it's time for you to like what you see, all you need to do is go to MyStake casino and make a real money deposit, in order to fully enjoy the ancient journey with Dino! Follow these simple steps, which will guide you on how to make a real money Deposit to play on Dino Casino.
Step one: Visit MyStake website and log in (If you already have an account registered)
Step two: In the top right corner click on the register button and follow the instructions.
Step Three: After you've successfully registered, click on blue Deposit button.
Step Four: Choose one of the many deposit methods provided by MyStake that suits you the best.
Step Five: Once the money is reflected on your balance, go to minigames section.
Step Six: Choose Dino Casino game and start your winning journey!
We hope that this step by step guide will fully help you with your deposit process, if you'd encounter any further problems at Dino Casino, feel free to contact their top rated 24/7 customer support.
How To Play Dino?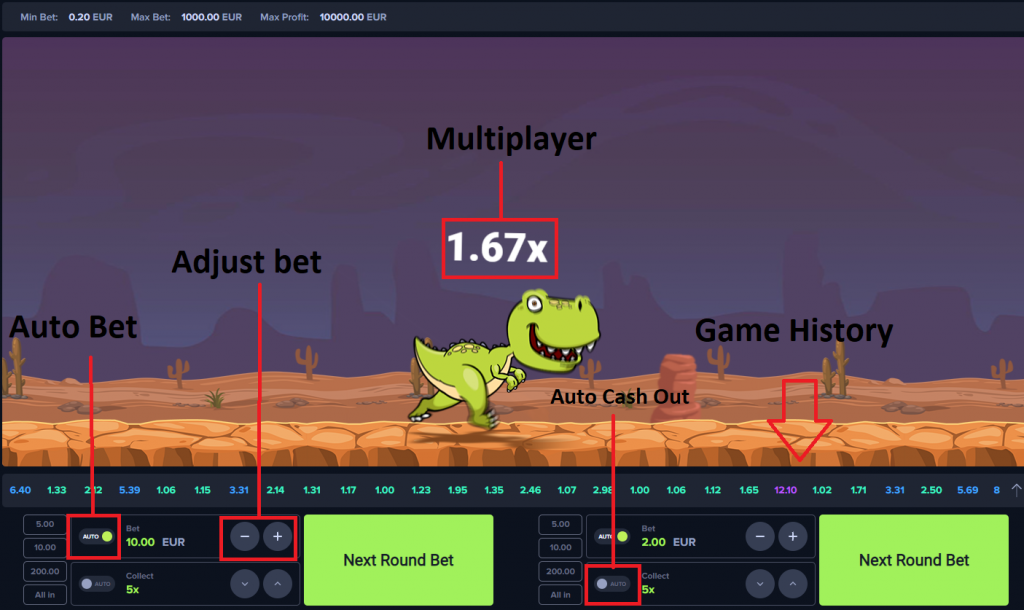 You may have seen a video of a famous Dino Game and wondering how to play it. The truth is – you should play it on MyStake Casino.
Visit MyStake.com Casino
Create your account
Make your First deposit
Open Minigames > Dino
Choose your bet size and start playing!
Playing Dino is very simple. As a player, you should place a bet before the Dino starts running. The Bet amount can vary from 0.2 to 1000 EUR / USD. Remember that you can place two bets for one Dino run. The objective of the game is to be quick enough to cash out before the meteor hits Dino. You can set the auto collect on a specific multiplayer amount so you don't spend time clicking the Cashout button. The bet amount is multiplied by the Dino Multiplayer and the total win amount is automatically added to the player's account. If the Dino crashes before you Cashout, you lose your bet.
Play Dino at Mystake
Welcome bonus
100%
What are the strategies to win on Dino?
There are many strategies used by experienced players which increase your chances to win on Dino. Please note that none of these strategies ensure the victory, please attempt to play on your own risk! There are some of the most famous strategies used by MyStake users on Dino.
Skip bets after a big win
Since the crash games are equipped with a RTP system, many people prefer to skip few runs after the multiplayer went to a high number like 100x or higher. Many believe that after the game has given away a huge win amounts, the following bets will be used to balance the RTP and take the money from players by exploding on the low multiplayer amount. To avoid this, you can skip the first 1-2 Dino runs after a big win.
Secure your bet with Auto Cashout on Dino
The Dino Minigame gives ability to set the auto collect amount whilst placing the bet on Dino run. There are 2 buttons, therefore you can place 2 bets on each run. The strategy is to secure your one bet with another. For example, you can bet 10 USD / EUR and set the auto collect to 1.2 and place another 2 EUR as a second bet for the same Dino Run. There's a high chance that the Dino will reach more than 1.2x since the multiplayer is very low. By automatically cashing out 10 EUR on 1.2x multiplayer, you will gain 2 EUR, which means that your other bet of 2 EUR is already secured and you have not spent anything. By having a secured bet, you can wait for Dino to run as high as possible, because you don't lose anything.
The Martingale Strategy – Double your bet on Dino
The Martingale strategy is the most famous gambling strategy of all time and it can be used on almost any casino game, including Dino Minigame. Martingale strategy is banned by every land casino worldwide, but online casinos can't restrict it. You may take advantage of the Dino Minigame by using Martingale Strategy.
– How does it work?
Martingale Strategy means doubling your bet after a losing round and starting over again after winning. In case of Dino, you should set the auto multiplayer to higher than 2.01 and start betting from 1 EUR. If you lose the game round, your next bet should be 2 EUR, then 4 EUR, 8, 16, 32, etc. When you hit the Win, your win amount from the last bet will be more than the sum of all prior bets, so in total you win. You should start over again from 1 EUR after winning. The only downsize of this strategy is that you may run out of balance before winning a game round. Also, the maximum bet amount is set to 1000 EUR, which means that you can't double your bet more than 31 times. But the chances that you will win in 32 rounds is very high.
You can check our strategies page to learn more strategies about Dino and other games!
The Dino NFT
The Dino Character has become a NFT card. MyStake has created a utility NFT collection which gives holders ability to earn money in MyStake casino. There are 4 NFT characters: Dino, Chicken, Professor and Yeti, each of them are also characters of MyStake minigames By holding one of those NFTs, you can have privileges like increased withdrawal limits, special tournaments and much more! Check NFTmystake.com for more details!
Similar Minigames
If you enjoyed Dino, you might also like Chicken, Plinko, Dice, Icefield, Aqua Rings and other Minigames on MyStake.
What users think about Dino MyStake?
After getting feedback from many users from all around the world about the Dino Casino game, we can safely recommend it to any player seeking excitement and profit! We've seen pictures of many enormous wins sent to us by our satisfied users. Almost all of the feedback states that Dino MyStake is better than any similar crash game you might find on the market, so why are you still here?

FAQ
What is the Dino Crash Game?
The Dino Crash Game is a popular crash game offered by MyStake Casino, involving a dinosaur that runs to gain multipliers until it gets hit by a meteor. Players place bets and aim to cash out before the dinosaur is hit, and the game has a notably high RTP (Return To Player) of 96%.
How do I play the Dino Crash Game?
To play the Dino Crash Game, visit MyStake.com, create an account, deposit funds, navigate to the minigames section, select the Dino game, choose your bet size, and start playing. Ensure you cash out before the Dino is hit by a meteor to win.
What is RTP and why is it important?
RTP, or Return To Player, indicates the percentage of the total bet amount that should be returned to players. In the context of the Dino game, a 96% RTP means that 96% of all bets are returned to players, while the casino takes a 4% margin.
How can I deposit money to play Dino Casino?
To deposit money on MyStake for playing the Dino Casino game, you need to visit the website, login (or register if you don't have an account), click on the deposit button, choose a deposit method, and follow through the process till your money reflects in your account.
What strategies can I use to win in the Dino Crash Game?
Some strategies used by players include skipping bets after a big win, securing bets with Auto Cashout, and employing the Martingale strategy, which involves doubling your bet after each loss and returning to your initial bet size after a win. Note: No strategy guarantees a win.
Are there any bonuses available for the Dino Mini-Game?
Yes, MyStake offers 10 Free Runs on Dino for any deposit amount and a 100% Minigames Welcome Bonus to double your play chances. You may also use promo codes on signup for additional offers like 5 Free Runs without deposit.
Can I set an automatic cashout in the Dino Game?
Yes, the Dino Minigame allows you to set an auto-collect amount when placing your bet. You can place up to two bets on each Dino run, and utilize strategies to maximize your potential winnings.
What is the Dino NFT?
The Dino character has been transformed into a NFT (Non-Fungible Token) card. By holding one of these NFTs, users can enjoy privileges like increased withdrawal limits and special tournaments at MyStake Casino.
Are there similar games to Dino available on MyStake?
Yes, MyStake offers various other minigames, such as Chicken, Plinko, Dice, Icefield, and Aqua Rings, which you might enjoy if you like playing the Dino Crash Game.
What do users say about the Dino MyStake game?
User feedback generally indicates satisfaction, with many praising Dino MyStake for its engaging gameplay and lucrative winnings. Comparatively, it often receives higher ratings than other similar market offerings in crash games.