Heatz Casino Review
Heatz is an online casino which offers variety of Slots and Live Casino Games. Solely focused on casino games, Heatz Casino doesn't offer Sportsbook. However, the huge selection of slot games, provided by the most influential and famous Slot providers such as Evolution Gaming, Boongo, Play'n Go, Pragmatic Play, Netent and many others, makes an entertaining environment for players with any taste. All of the slots on the Heatz Casino are provided with the highest possible RTP, varying from 94 to 96%. Speaking about the RTP it's impossible not to point out the Live RTP function which helps Heatz players decide which slot game to play. You can also see your gaming history by clicking "Recently Played" button available in the casino menu. The function displays the slot games which you've recently played, so you don't have to dig deep into numerous slot providers to continue playing your favorite one.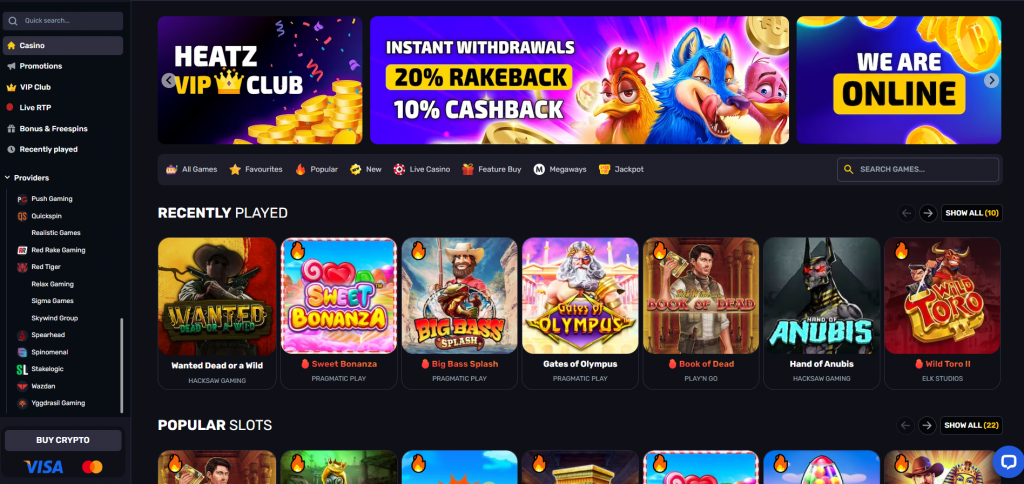 Is Heatz Casino Legit?
While choosing an online casino to play, you should consider numerous factors:
Licensing is the key indicator of the legitimacy of an online casino. While it comes to depositing your funds, you should be aware that you're on the right place to do that. The Heatz Casino is the newest Crypto-Casino owned and operated by Stake Seven B.V. – a company based in Curacao. Like Many other Crypto-Casinos such Gamdom, Stake, JackBit and others, the Heatz Casino itself is licensed by the Curacao eGaming Authority.
The Heatz Casino was established in 2022. The Stake Seven B.V. which manages the casino is also freshly registered – It owns only one casino at the moment, so the team of professionals are focused solely on improvement, development and marketing of the Heatz Casino.
Did you know? Big slot providers don't have the right to make their games available on casinos that have no license, or are fraudulent. Heatz casino has a wide variety of famous vendors and providers such as Evolution and Pragmatic. While you notice these providers on your casino, you can know that the casino is legit, and you're playing on a secure platform.
An authority of the casino is highly depended on its reviews in the internet. There are several platforms where casino users write their experience. For example, you can check Casino Guru or Trustpilot to find out what Heatz users think about the casino. Since the casino is fresh you may not find many reviews about it yet, however you can be the first one to write about it and openly speak about its negative and positive factors. You can also comment down your thoughts about Heatz Casino in the comments below to let people know your experience!
Why Play on Crypto Casino?
Nowadays Crypto Casinos (such as Roobet) are taking over the gambling industry. FIAT payments are slowly replaced by Crypto options. There are many reasons why players and casinos prefer Crypto over FIAT. One of the main reason is the transaction speed – The Deposit and Withdrawals are almost Instant available with lower fees than those of MasterCard or Visa. Alongside with the speed, Crypto Casinos require less paperwork from their players. Casinos that have FIAT payments go through many regulations and bureaucracy. The payment providers always request the KYC of each depositing player. In case of Crypto, casinos don't have any requirements to request KYC documents from its players, as Crypto transactions are 100% anonymous and untraceable. If you're new to the crypto world and don't know how to deposit, there's still nothing to worry about because Crypto deposit is made easy on Heatz Casino.
Another reason why you should play on Heatz is that the site is VPN friendly! You can play on Heatz Casino from any location worldwide by using VPN! Read our article about VPN usage for more details:
How To Deposit and Withdraw Crypto on Heatz Casino?
If you have only a little knowledge about Cryptocurrencies, you'll find it extremely easy to make deposits or request withdrawals on Heatz Casino. The casino offers wide variety of Crypto deposit options such as Litecoin, Bitcoin Cash, Ethereum, BNB Coin and most importantly – the Bitcoin. Same cryptocurrencies can be used for withdrawal.
Are you new to Crypto and don't have a wallet? There's still a solution for you! You can exchange the FIAT money to cryptocurrency directly from your casino account! Simply as that, you don't even need to have a wallet. The Visa / mastercard payment is supported in every country on the globe, which means that literally any adult person can easily deposit on the Heatz Casino.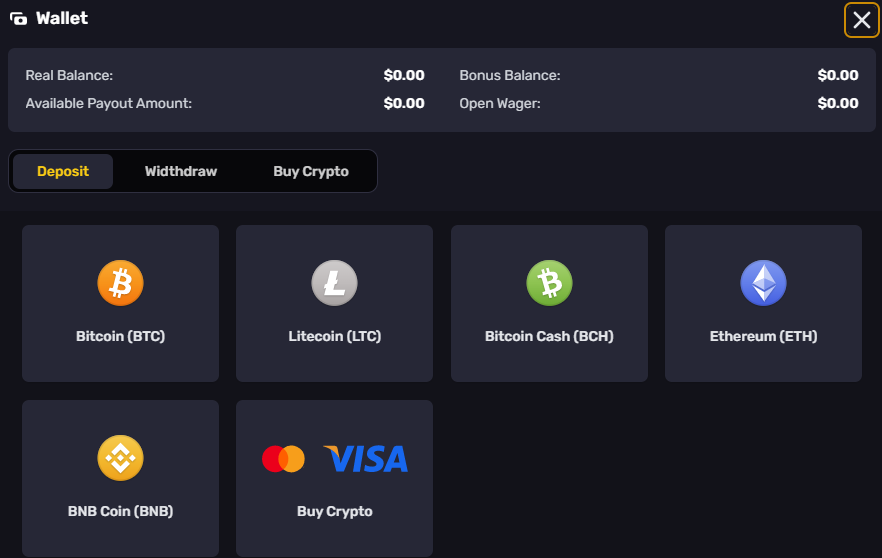 Why Choose Heatz Casino among others?
The site age is the crucial factor to look at while choosing an online casino to play. Knowing that Heatz casino is just being created, with a lot of resources invested, the positive customer experience is the most important factor for their future success. Being one of the first players of Heatz casino, you can take advantage of loyalty bonuses and gifts, welcome offers and many special bonuses that will be available for you – As it's crucial to have positive feedback in the very beginning.
There are many functions that make Heatz Casino unique from others. Let's get into details about them:
Live RTP
The Live RTP page shows you "Hot" and "Cold" games. In order to understand what it exactly means, we should know what is RTP and how it works.
RTP is an abbreviation of Return To Player. It's a variable indicating how many percent from the total bet sum should return back to players. For example, if a game RTP is 95%, it means that the casino will have 5% profit from all bets. 95% will be returned back to players.
The Live RTP is taking the slot choice on the next level. Slot games displayed in "Hot" section give you information that a high sum from total bets have been lost by players. In this case the slot is trying to balance the RTP, so it's highly possible that the slot will give away a big win to compensate other people's loses. The "Cold" game section tells you that slots displayed in the field have recently given away a big win, which means that the slot will no longer give you a big multiplier in order to balance the RTP. The function gives you a hint about which slot to play, and it is a quite helpful tool which many people enjoy.
Heatz VIP Club
VIP Club on Heatz casino is an earning program through which you have a visualized access to your performance and eligibility of cashbacks. The more you play on Heatz, the more valued you are. The progressive loyalty program is user-friendly, where each level represents your loyalty rank. Starting from Level 1 which you reach after wagering 3,000$, you're eligible for 10% Daily Rakeback, 1% Weekly Cashback and a monthly bonus, while the Level 10 gives you an availability of 20% Daily Rakeback, 10% Weekly Cashback and a special Monthly bonus – this option is available after wagering 2,000,000$ on Heatz!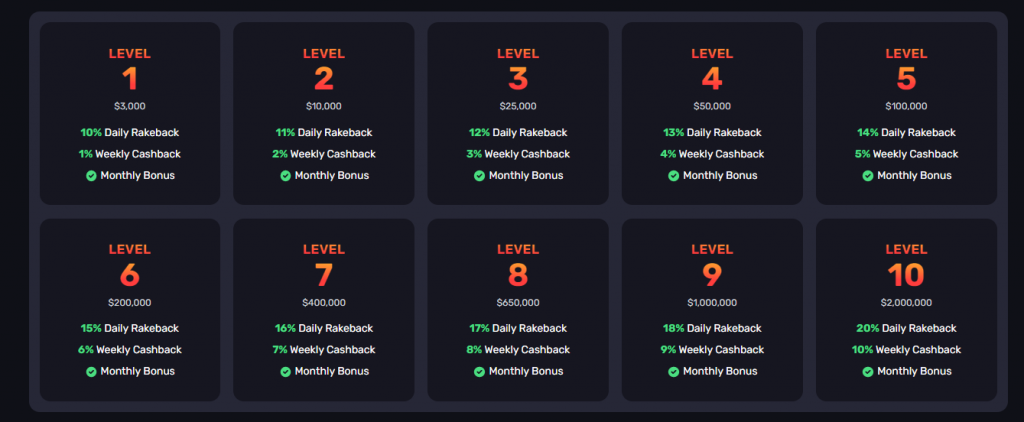 Heatz Bonus & Freespins
The Promotions are still under development on Heatz. However, you shouldn't worry about it, because thanks to it's CRM you will not have to worry about it. CRM (Email and SMS marketing) will daily offer you promotions, free spins and bonuses that match your taste. Make sure to select the correct email and phone number whilst registration and enjoy numerous offers received from the dedicated CRM team from Heatz!
Overall Opinion about Heatz
After carefully checking the website, making deposits and withdrawals, playing slots and live casino games, our gambling experts have found no issues or problems that you face whilst playing. The Live Chat is friendly, available 24/7 to assist you. CRM is working hard to give you good offers, and the loyalty program is awesome. Some games may not work for you in accordance to your location, but the casino is VPN Friendly. You can play any game from anywhere if you chose the correct IP. The casino is not regulated by ANJ, AAMS or Gamstop, so you're free to play!