Aero Game is a new MyStake Crash Game with the highest RTP in the history. Enjoy playing with highest bonus!
Pros
Mobile Friendly
High FPS
Double Bet
Cons
Not Available in all currencies
What is Aero Mystake Game?
Aero Mystake Crash Game was recently developed and published by UpGaming. Since then, it has gained a huge popularity among the players all over the world. The central figure of the game is a dark green pilot with an astonishing mustache that attracts women from miles away. Main mission for him is to fly without crashing for as long as possible.
As this spectacular guy flies off, it gains multipliers. Further and longer he flies, more multipliers are generated. As a player, you can place any amount you would like between 0.10 EUR / USD / BRL / GBP and 1000.00 EUR / USD / BRL / GBP before the plane takes off. You need to be focused and attuned to your senses in order to react quickly and cash-out, before the plane crashes due to technical errors in the engine. The multiplayer can range from as low as 1.00X and as high as 10,000X.
How to Play Aero Casino Game?
If you are ready to fly with Aero pilot, head over and create an account on Mystake. In order for you to be able to play the Aero Casino game, you should make a real money deposit, as each take off needs a real money bet to participate. Always remember to be gamble aware and only gamble with money that you can afford to lose. After making a deposit, you can start enjoying different bonuses like 100% welcome offer, provided by Mystake casino.
Let's take a look at what options you have in the game. With a quick inspection, it appears to be just like any other crash game with auto-bet and auto cash-out buttons for each round. You can also see there is a bar showing how far the plane went in previous times. All these options create a comfortable environment for any type of player, whether you are just having fun or playing with a strategy to maximize your profits!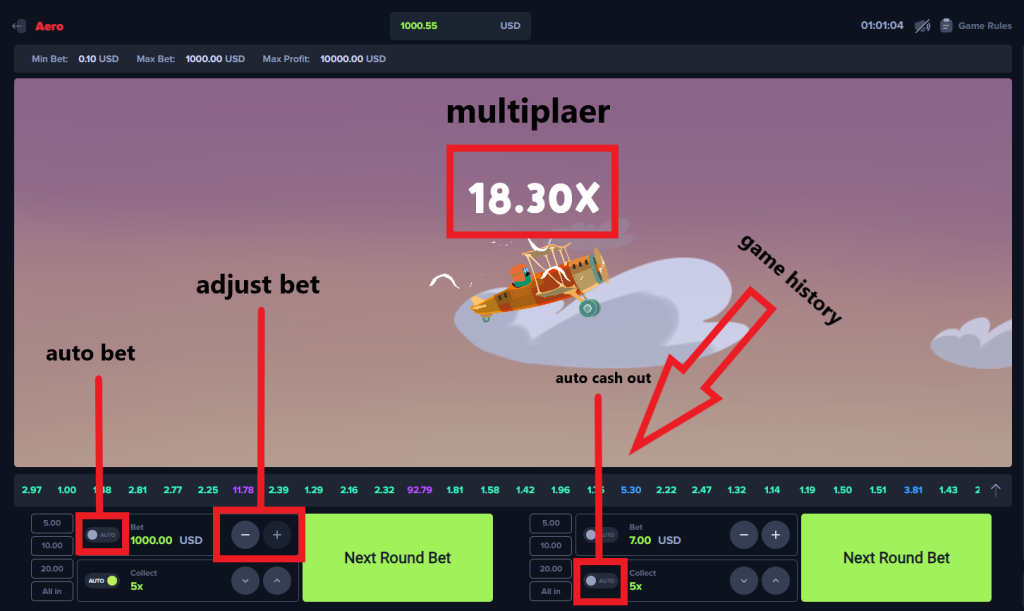 Rules of playing Aero Mystake game
The rules of Aero casino game are quite simple, let's dive right into them.
To win, your cashout number must be greater than 1 and less or equal to crash number. The win is calculated by multiplying collected multiplier coefficient to the made bet.
Maximum multiplier is 10000x and minimum is 1x
You can make one or two bets on the same game
You can configure each bet manually and then collect each bet separately
You can set auto collect on each bet. Enter number greater than 1 and set "auto" on. If Aero is not crashed before that number, your win amount will be collected automatically.
You can set auto bet for each bet and bet will be make automatically for every spin, until you disable it.
Aero game features
As we have already mentioned, Aero game is similar to other crash game. Once you open the game interface, you will come across:
Multiplier
Double bet
Auto bet
Auto Cash-out
Bet history
Game history
Multiplier
The games multiplier simply indicates how much you are going to win on each round. The calculation for winnings is following WIN=Bet amount X Multiplier. The increasing numbers above the plane is the multiplier. The figures will keep on increasing until the plane crashes. Be aware, you must collect your winnings before this happens.
Double Bet

Double bet is an option for people who choose to play strategically. You can place two bets at a same time and cash-out each one separately. You can use one as an insurance for the other, which will give you possibility to take more risks confidently.
Auto Bet

Auto-bet allows you to choose the bet amount and the system will automatically place bets on your behalf, until you turn it off. This gives you more comfortable gaming experience, as there is no need for you to click the bet button every round.
Auto Cash-Out

The auto cash-out feature is a brilliant way to set multiplier to whatever you desire and collecting your wins without having to click on cash-out button each round. Of course this doesn't stop you from collecting your winnings earlier. You can set auto cash-out from 1.1x to as high as 10,000x.
Bet History
The game has its own bet history, which gives you possibility to analyze your finances, like how much you have won or lost. It can be very useful to track your progression and identify your betting patterns.
Game History

Aero casino game has an amazing feature "game history" that make strategizing easier. This bar shows you statistics of the aero game, where it crashed and how long ago. You will be able to see maximum of 100 previous rounds.
Play Mystake Aero game for free
Not sure if you already want to make a deposit? You can try yourself in this game for free! Explore all the game features, try out your strategies and learn how to play Aero Mystake game to make the maximum profits from it.
The demo version of UpGaming Aero Crash game has the same volatility / RTP ratio as on MyStake, which gives you the direct analog of the game for free.
Play Aero Crash Game Mystake with Bonus
Head over to Mystake right now, where various types of bonuses await you. Here is the list of some, which we think would me more interesting for you.
Minigames Welcome Bonus
Make a deposit of real money higher than 20 EUR / USD and be awarded with 100% on top, so you can double up the enjoyment with the winnings.
Aero 10 Free Runs
Make a deposit of real money higher than 20 EUR / USD and be awarded 10 free Aero runs. Use promo code "AEROFREEFLY" after any deposit! Each Aero flight is equal to 1 EUR / USD bet. The total winnings from free spins will become an actionable bonus! You will be able to keep the bonus actionable for up to 7 days!
10% Crypto Cashback
Deposits made in crypto are guaranteed with 10% cashback! If you are making your deposits on Mystake with crypto, at the end of all months, all your negative balance will be calculated and 10% of it will be added back to your account as cashback. You can either withdraw the whole cashback amount or keep on playing your favorite games without rollover requirements.
Partner Websites
There are various options to get bonuses on the Mystake Aero game. Affiliate and partner websites, such as Lucky-Minigames, often provide their users with special promo codes for Aero and other MyStake mini-games in order to keep them interested and entertained. Check out their website regularly to be the first one to claim the bonus.
Aero MyStake with Bitcoin
It's no surprise that online gambling industry is getting more and more crypto based. The top rated online casinos around the world have chosen to have crypto deposits as an option and MyStake is no exception. You can make deposits on MyStake with Bitcoin, Etherium, USDT, XRP and other crypto currencies for you to be able to play the Aero casino game! Are you a player that still isn't comfortable with crypto yet? That's not a problem at all. Mystake also offers you FIAT currency deposits via Visa / Mastercard, Skrill and many other methods, however, our suggestion would still be to stick with cryptos as MyStake offers 170% welcome bonus for crypto depositors.
Withdraw your winnings from Aero Casino game
Are you one of many lucky users, that managed to win big on MyStake Aero game and are ready to make your withdrawal? Congratulations, you are a few seconds from simply starting the withdrawal process. Just click on your profile and choose the withdraw button. Now choose one of the many withdrawal options that you feel most comfortable with and follow the given instructions. Whether it is : Skrill, Crypto, Bank Transfer, SEPA, SWIFT, Netteler, Dash or any other option, you will be able to start the process of withdrawal within a few seconds. We assure you that you will find withdrawal option that suits you the best.
Big Winners on MyStake Aero
The game has been up and running for a couple of days and there have already been people who managed to catch up to 9842.34x. + do you know what does this mean? If you were there at that same time, with just a bet of 1 EUR on the round, you would be able to win 9842.34 EUR. Isn't that breathtaking? Main question is, do you have enough nerves to follow our pilot this far? Would you cash-out as early as 5x or keep it flying till 9000x? That is completely up to you. Are you a safe player or a risky one? Head over to the game right now and find out!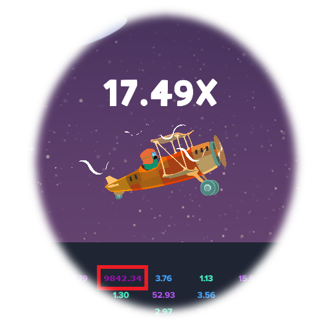 Aero Mobile App
Aero casino game has an amazing game design for any interface. You can taste the excitement of this game from mobile, laptop, tablet, or PC devices. There's also an Aero mobile app coming up soon, which will be available for both Android and IOS users. The best thing about the app is that you can play it from any country without restrictions on MyStake domain!
Benefits of playing on Aero Mystake on Mobile:
No Country Restrictions
Greater graphics and gameplay
Quicker browsing
Greater UI / UX
Keep an eye out, so you don't miss out on the chance to be the first one to download the Aero Mobile App!
Top Casinos, where you can play Aero Crash game
While there are a few casinos that you can play Aero casino game on, we would still suggest you to play it on MyStake, since it's the biggest of them all. It has been tested and approved many times by millions of users from all around the world. While playing on MyStake, you can often enjoy the best bonus offers among one of the best designs in the industry, top rated customer support, deposit/withdrawal options and many more!
Play MyStake Aero without any restrictions
Are you having trouble visiting MyStake.com domain? Don't you worry about it for even a little bit.
You can visit a MyStake Mirror website, which has a regularly updated information about MyStake mirror domains. Mirror domain is the same website using a different URL. Some of them work for some countries, but some of them don't. Check out Mystake Mirror website to find active domain / URL of MyStake in order to avoid any restrictions.
Deposit on MyStake
Mystake can offer you many different deposit methods suitable for any country like : Visa / Mastercard, Netteler, DinersClub, Webmoney, BTC, PayOp, Ecopayz, Sofort, QiWi, Skrill, Paysafecard, JCB, Mifinity, Pix, Boleto, USDT, Das, XRP, Eth… There are many options, out of which we guarantee you will find the right one for you.
Withdraw from MyStake
Mystake offers withdrawal methods such as : SEPA, SWIFT, Skrill, EcoPayz, Bitcoin, Litecoin, Pix and others.
Game Providers on MyStake
On MyStake, you can enjoy games developed by the best companies like : NetEnt, Evolution Gaming, Play'NGO, Red Tiger, Pragmatic, Amatic, Nolimit City, iSOFTBET, BetSoft, GameART, BTG and many more!
Accepted Currencies
Currencies accepted by MyStaka are following : EUR / USD / BRL / AUD / CAD / ARS.
If you couldn't find your local currency on the list, don't worry! Any deposit will be automatically converted to your account balance automatically.