In the modern world, everyone knows about cryptocurrency. It's the payment method that has become common in online transactions. Casinos, of course, would not let such a chance slide from their hands. Payments are simple, don't involve many parties, and transaction fees are low. Moreover, it's way too beneficial for casino players too.
Mystake also offers cryptocurrency and Bitcoin payments along with bank transfers, Skrill, Neteller and other specific channels. So let's get down to this topic in detail.
What are the benefits of crypto payments on My stake?
Most people are comfortable with traditional payment systems. Why should I use crypto when I can do everything with a card? However, there are several benefits of crypto casinos.
Fast payouts
In general, crypto withdrawals take less time than other channels. Mystake processes payment requests within 1-3 working days. When it comes to crypto, it's often done within a day.
Fewer options in some countries
Yeah, Mystake is open to everyone around the world. You can play any kind of game as long as you are connected to the internet. But, not all payment methods are available for certain countries. Thus, there is a way out: crypto currency. No matter where you are, you can always use a crypto wallet to deposit and withdraw funds from Mystake.
Simplified verification
In order to withdraw funds from Mystake, you need to complete the verification process. It includes proof of address and identity, as well as credit or debit card verification if you use any.
However, if you only use crypto, you just need to verify your identity. Of course, Mystake team may request other details. However, it happens in case a player seems suspicious.
Security
Sometimes, we want to hide our transactions from casinos, right? We might be from a country where we don't have the right to play. The reasons might be numerous. Crypto wallets provide security. The transaction hash just shows crypto addresses; there is no personal information.
Cashback and bonuses
Since crypto gateways have lower transaction fees, Mystake casino offers better bonuses.
170% Crypto welcome bonus for slot players-(link goes to the bonus description)
10% crypto cashback- 10% of monthly crypto deposit losses will be gifted. Note: there is no wagering requirement.
How To Deposit With Crypto and Bitcoin at MyStake
Mystake has several crypto currencies for deposit: Bitcoin, Litecoin, Bitcoin cash, Ripple, Dash, Monero, and USD Tether. You can select any you prefer. After that, you will see the payment address, which you can copy and send money from your wallet. In a few minutes, the money will be in your Mystake balance. Bitcoin has a 20 euro/usd minimal threshold, whereas other crypto currencies don't have any limit.
How to withdraw in Crypto (Bitcoin) from Mystake
Withdrawal with cryptocurrency is a piece of cake. It's the easiest part.
We just need to know the crypto address where we want to get the money. Your crypto wallet has a lot of cryptocurrencies. Each one has a unique address where you are going to receive the funds. Give no one the address for a coin other than the one you want. You will never receive your Bitcoin if you choose a receiving address from a Litecoin wallet, but want Bitcoin instead. The address must correspond to the coin you want to receive.
Here is step-by-step tutorial, how to request crypto withdrawal from Mystake:
Step 1: Create a Crypto Wallet.
Step 2: Copy your Deposit address of a crypto currency of your choice.
Step 3: Paste it in the withdraw address on MyStake's profile.
Step 4: Click withdraw and wait for approval.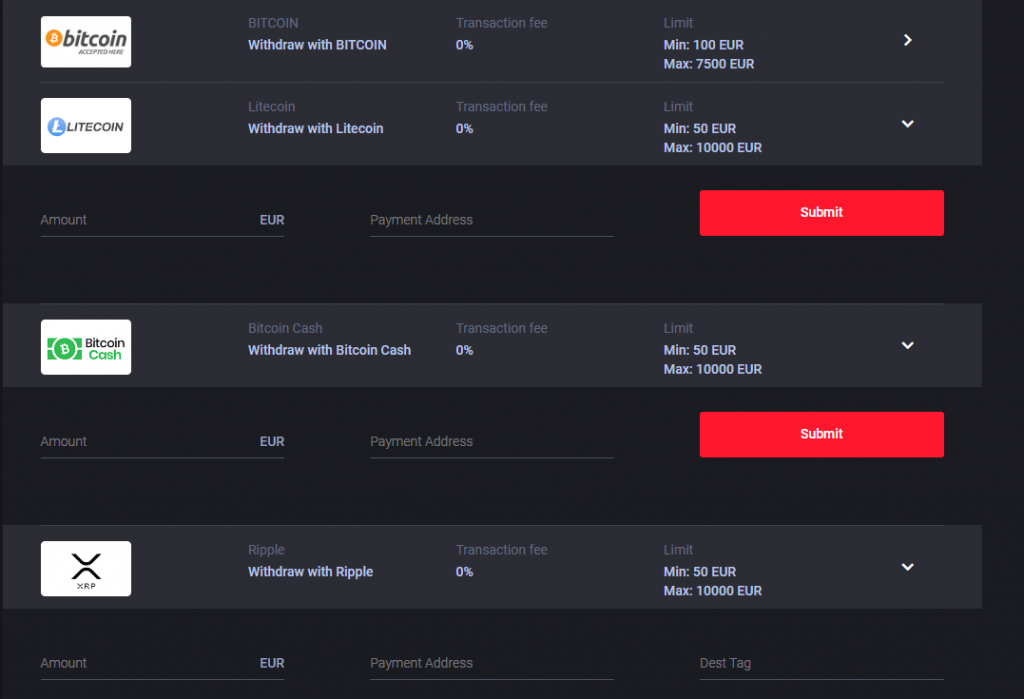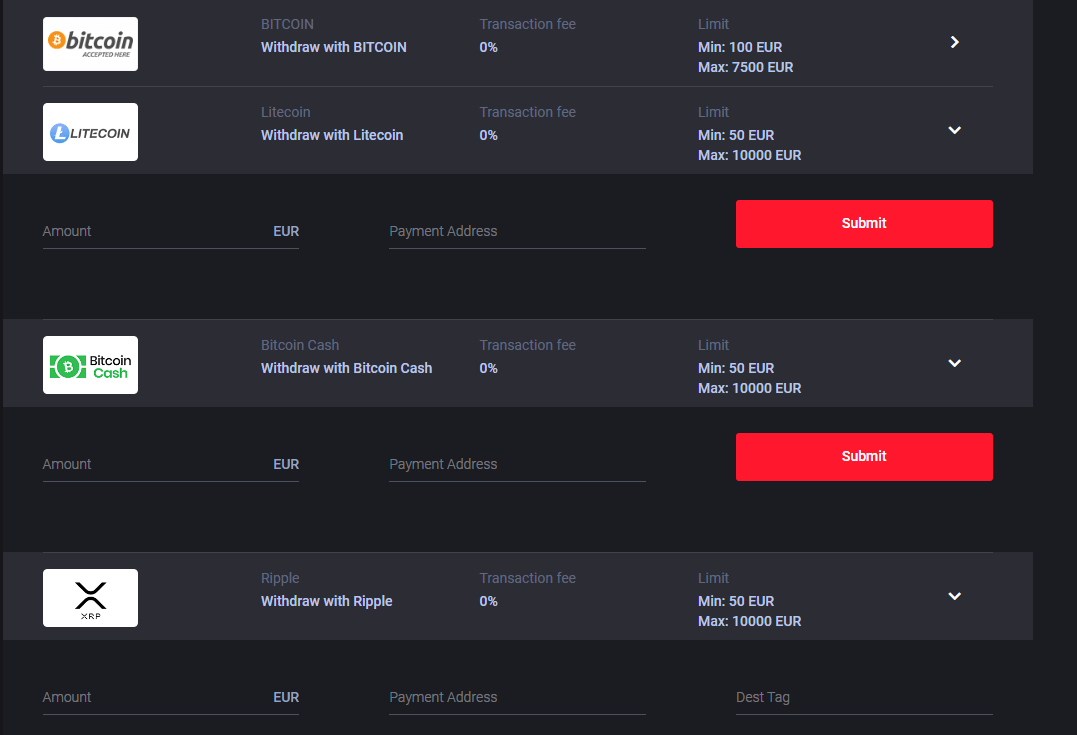 Take into account that Bitcoin withdrawal limit is 100 EUR or its equivalent. As for other cryptocurrencies, you can withdraw at least 50 EUR or equivalent.
How to Make a Crypto Wallet
Once you make up your mind that you want to enter the crypto world, there is some research to do. There are loads of crypto exchanges and wallets, but not all of them are safe.
Only use the ones that are trusted by a lot of users. Most crypto exchanges have crypto wallets too. So you can use only one platform for everything. However, beware of Coinbase. The most negative point is that gambling sites are considered high-risk addresses. Because of this, you'd better not make a deposit or withdrawal to or from an online casino using an exchange account that is not casino-friendly, such as Coinbase, for example.
I am going to share some tips that will help you avoid such inconveniences. Try to make deposits and withdrawals using your personal (decentralized) wallet, then transfer the money to a cryptocurrency exchange or choose a reliable crypto exchange that doesn't have strict policies.
So which crypto wallet should we choose?
There are various decentralized wallets. I love Exodus for its simplicity and user-friendly interface. The wallet is available on desktop and mobile too, and can be synchronized on both. Moreover, they are constantly adding useful options. For example, recently they implemented the possibility of buying crypto from their platform. You can even link it to your FTX exchange account and simplify transactions. You can try other wallets too, such as BRD, and Blockstream.com .
For beginners, decentralized wallets are a bit confusing. So you can start with trusted crypto exchanges that provide everything – trading, wallets, and fiat transfers. There we can exchange crypto for fiat (government issued money) or vice versa at a low rate.
There are crypto exchange giants : Binance, Crypto.com, E_toro, FXD. You can feel safe trading your crypto or real money on those platforms. Depending on the country, some of them may not be the best options. So do a little research before choosing your exchange.
Consider trading and withdrawal fees for your bank account, debit card, or e-wallet.  
3. You have your personal crypto wallet and crypto exchange. So everything's set. You are ready to play in an online casino using your cryptocurrency.