Pros
Easiest Gameplay
Strategies Available
Cons
Can't double 1 EUR bet more than 10 times
no dice roll animation
About Dice Game
Dice is a mini game developed by upGaming and available on various online casino platforms like MyStake, JackBit, Fresh-bet, Goldenbet and others. The game is also available on other casinos and other game developers with the same logic, but the difference is the RTP coefficient. The Dice game by upGaming has an RTP of 99% and is one of the most profitable games you can find online.
How To Play Dice
Dice is among the games which are so easy to play it requires no further explanations. There is a line where you should set any number from 0 to 100. Each Bet means that a dice will roll and write a number from 0 to 100, and you should guess if this number will be over or under your chosen number. The lower your choice is, "roll under" coefficient is higher and can be up to 49.5x. The Higher your choice is, the "roll over" coefficient is higher. If you the slider button to the middle, both "roll over" and "roll under" coefficients will equal to 1.98 as there are exactly equal chances of both outcomes. If the dice rolls at your choice, it's a draw and you will get back your bet amount.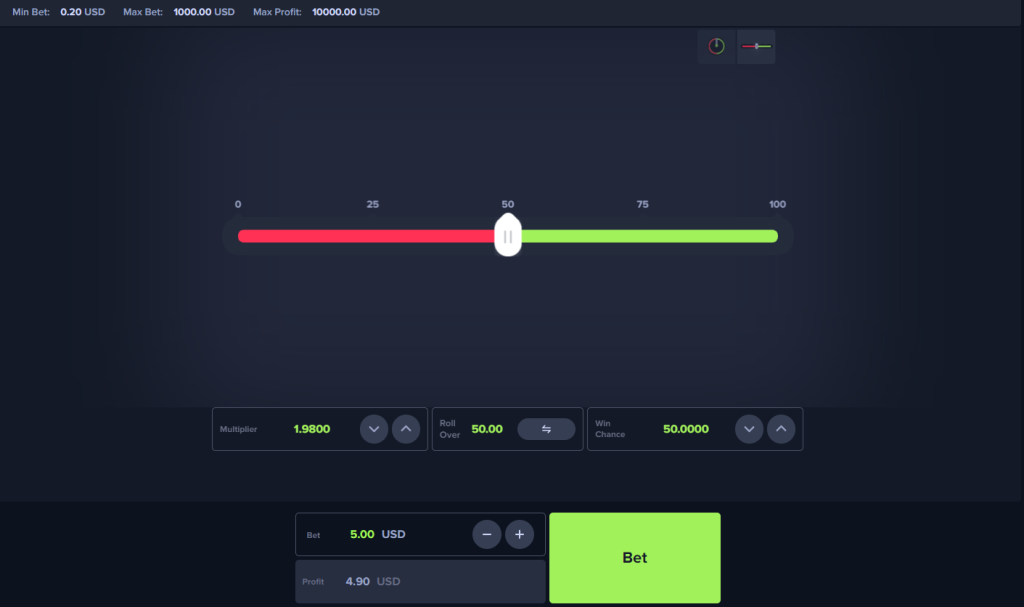 Winning Strategies and Techniques in Dice Game
Dice is one of the most favorite game for players that enjoy mathematical advantage play. The coefficients and probability percentage are so clear that one can easily calculate the probability of his victory. The adjustable slider helps choose the most profitable game mode.
Among the most famous strategies in Gambling in general, the most famous one is the Martingale Strategy. The short description of this strategy is that you should double your bet after a losing bet and start over again after a winning one. This strategy works like a clockwork on the Dice game and it's not restricted by the website administration. Many have enjoyed withdrawing profit by playing Martingale. But martingale is 100% profitable when the doubling is unlimited. As the max bet is set to 1,000 EUR on MyStake, it means that you can't double your 1 EUR bet more than 10 times, therefore if your preferred number doesn't land in 10 trials, you are going to lose a solid amount of money. But it's unlikely that 10 trials won't bring you luck! It's up to you!
Read more about our strategies on different games including a detailed Dice Martingale explanation by visiting our Strategies page.
Where can I play Dice with bonus?
Dice can be played on MyStake, JackBit, GoldenBet, Fresh-bet and other online casino brands. You can enjoy their welcome bonuses and also you can use free bets, free spins and much more offered specially by Lucky-mingames team for its loyal readers!
You Might Like
If you like Dice, You might also like Chicken, Plinko, Dino and other mini games!