Plinko is a game where there is no specific strategy. However, we can use some techniques to put ourselves on a win streak.
How to win up to $30 with the strategy in Plinko
We played Plinko on MyStake, JackBit, Goldenbet and other casino brands and the game is basically same anywhere. If you have not read our review about the Plinko yet, you should read it now by clicking here. The most tried-and-true strategy, for instance, is to increase the number of rows to their maximum, start betting with a minimum of 20 cents, and drop just one ball. The risk level for the game is initially set to medium; we then simply change the stake amount to 40 cents, 60 cents, 80 cents, 1 euro, 2 euros, 3 , 4, 5, 6 and so on up to 10 euros. We can check the balance, and there's a good chance we'll make 20–30 euros that way.
Don't forget to share your experience in the comments and tell us about your tricks too.
How to catch a big win in Plinko game
Here is a tip you can use to try your luck at earning more money. Set the number of rows to 16, choose a high-risk game, and one ball.
If you do not make a sizable profit after five attempts at a 1 euro bet, repeat the strategy. In some rounds, in my personal experience, you have to catch a big x.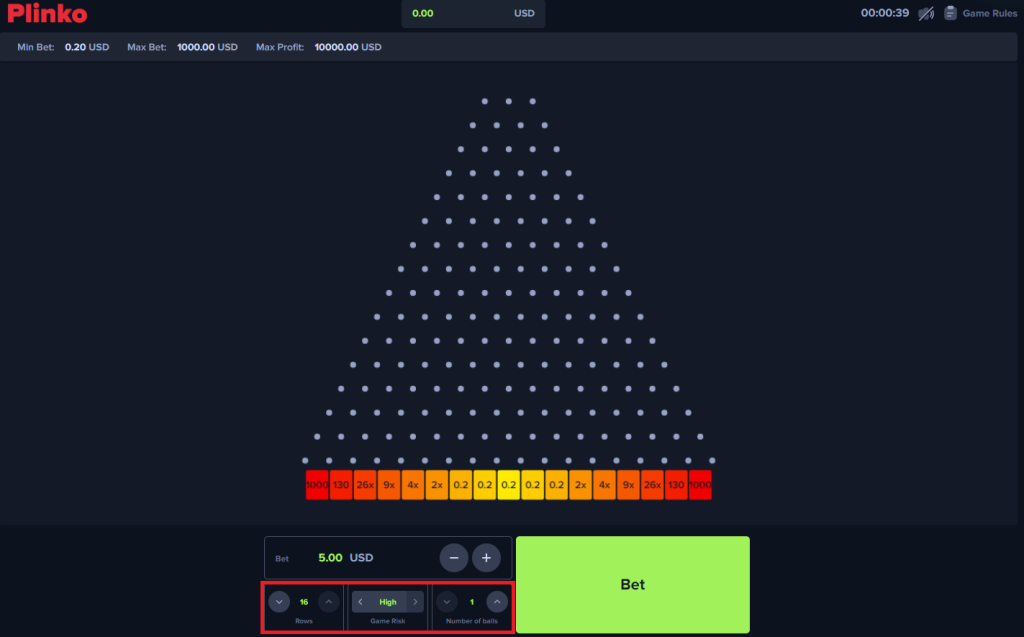 How can you win at Plinko without taking on too much risk?
The third strategy is to try the lowest game risk at 8 rows, in which case you will have only one chance out of 8 to lose money. Choose a relatively large bet and do not change the strategy. Throw as many balls as possible in one minute and then look at the balance. The chances of losing are small, but it will be very difficult for you to win a large amount of money here.
Plinko is a dynamic game, as was already mentioned. It is challenging to develop many strategies, but it is a lot of fun, and with my advice, you can enjoy the game and make some money as well.
Further tips for playing Plinko in online casinos
Even though we, the players, develop winning strategies, Plinko is still a game of chance. So play for entertainment and if you lose, don't take it seriously. So it would be best to set some budget for playing and don't go over the limit you are supposed to spend.
There is a tricky feature. Plinko has 0.2 , 0.3, and 0.5 odds. If you hit such a spot, it doesn't mean you win. For example, if you bet $10 and hit 0.5X, then you will get $5 in return.
Play Plinko in the demo version if you're a beginner to get a sense of how it all works. Then move on to the game with real money.