Pros
The game is a simple game that is easy to learn and play, making it an ideal choice for novice players.
The Frog mini game offers a high RTP (Return to Player) percentage, which means that players have a better chance of winning.
Wide range of betting options to suit all budgets, from as little as $0.10 to as much as $1000.
The Auto-play feature allows players to sit back and relax while the game automatically plays a set number of rounds.
Frog mini game features colorful and entertaining graphics, which add to the overall gaming experience.
Cons
As a simple game, it may lack the depth and complexity of other online casino games.
No progressive jackpot: Unlike some other online casino games, Frog mini game does not offer a progressive jackpot, which may be a drawback for some players.
Risk of losing money: As with all forms of gambling, there is a risk of losing money when playing Frog mini game.
Online casino Mini Games are a popular form of entertainment for players who enjoy the thrill of gambling without having to leave their homes. Mini Games are typically fast-paced, easy-to-learn games that offer players the chance to win real money while experiencing the excitement of casino gaming.
With 12 successful mini Games that have all enjoyed huge popularity among players all around the world, The well-known online casino MyStake is back with another thrilling Game – "Froggy" has already begun to win over the hearts of its users.
In this article, we will provide you with everything you need to know about Frog Mini Game. From an in-depth gameplay review to the pros and cons of the game, as well as tips for different strategies, we've got you covered. This article will provide you with all the information you need to make the most of your experience playing Froggy Mini Game. So sit back, relax, and let us guide you through this exciting and entertaining game.
Mystake Froggy Mini Game: An Overview and Guide

Froggy, the newest addition to the Mystake family, is a simple yet entertaining game. With its easy-to-learn gameplay mechanics, the game appeals to both novice and experienced players alike. The graphics are vibrant and eye-catching, giving the game a playful and fun vibe.
The frog character is the star of the show, sitting patiently and waiting for players to place their bets. Once a bet is placed, the frog releases the winning numbers from its mouth, providing an exciting and suspenseful experience. Like other MyStake Mini Games, the probability of winning is high, providing fair winning chances for players.
Winning Chances and RTP: What to Expect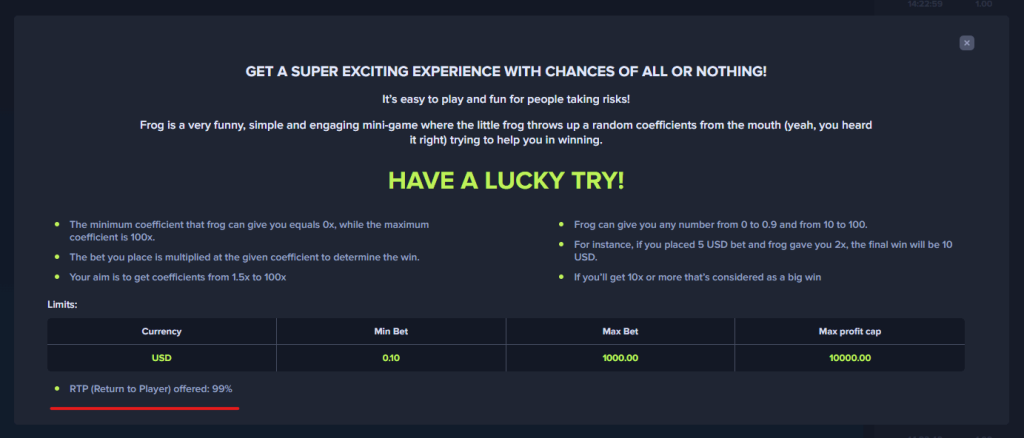 The RTP (Return to Player) is an important factor to consider when playing any online casino game, including the Froggy Mini Game. The RTP percentage indicates the amount of money that the game is designed to return to players over time. At Mystake, the RTP of each Game is clearly stated in the game's "about" window, as transparency is a top priority. With the 99% RTP percentage, players can rest assured that they have the best chance of winning when they play the Froggy mini game. The profit of the casino is calculated based on the formula: You simply divide the overall amount won (or returned) to players on a particular game by the total amount gambled by the same players. While the winning amount in game is randomized, players can be sure that the high RTP percentage offers fair and favorable winning odds.
How to Play Mystake Froggy Mini Game: A Step-by-Step Guide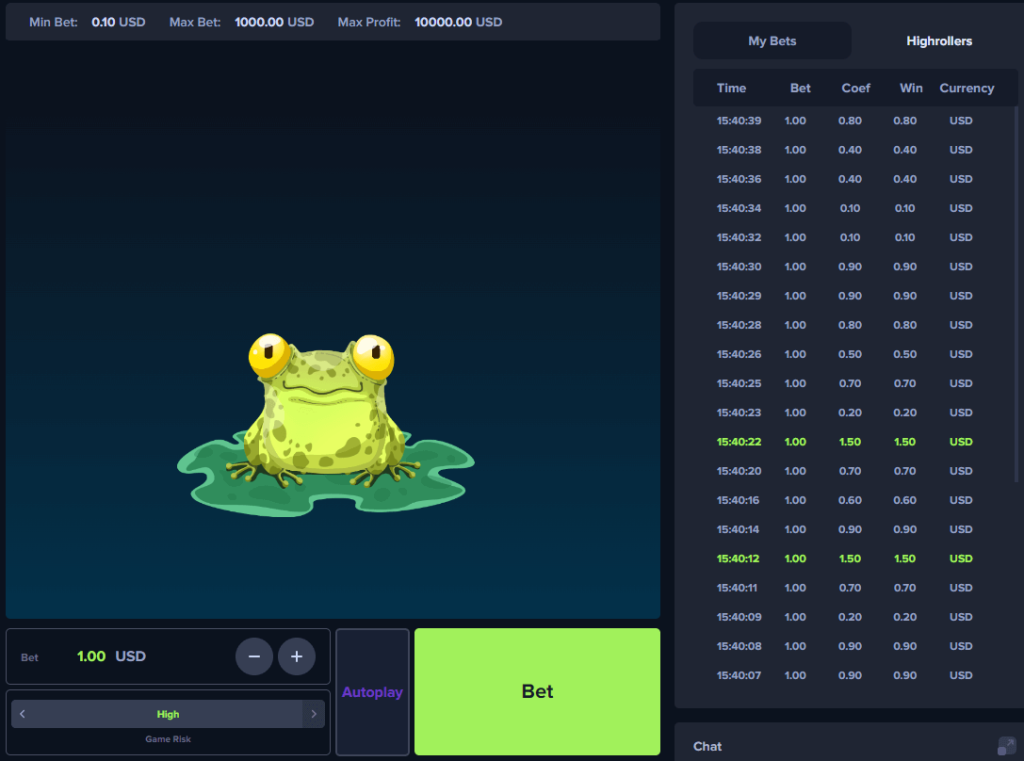 If you're new to Froggy, don't worry – it's a simple game that's easy to learn. Here's a step-by-step guide on how to play:
Choose your bet amount: Before you start playing, you need to choose how much money you want to bet. You can do this by using the plus and minus buttons next to the "Bet" field.
Place your bet: Once you've chosen your bet amount, click on the green "Bet" button to place your bet. You'll see the odds displayed under the frog, which will show you your chances of winning.
Set your bet limits: the game offers a wide range of betting options to suit every player's needs. The minimum bet is $0.10, while the maximum bet is $1000. With each bet, players have the chance to win up to $10,000.
Auto-play: For those who want to sit back and enjoy some wins, the Froggy mini game offers an Auto-play feature. This allows players to bet automatically until they decide to stop it. This feature allows to play without having to click the "Bet" button each time.
Overall, playing Mystake Froggy mini game is a fun and straightforward experience that offers the chance to win big payouts. Just choose your bet amount, click the green "Bet" button, and watch the frog release your winnings!
Strategies for Maximizing Your Success in Mystake Froggy
The Froggy Mini Game offers players to try out different casino mini game strategies to control their winning opportunities by using the Game Risk Mode feature. This feature is located under the bet amount section, and it allows players to choose between three options – low, medium, and high – each with its own unique advantages and disadvantages.
Low Game Risk – This option increases the average winning probability while decreasing the maximum win amount. This mode is ideal for players who want to minimize their risk and play it safe.
Medium Game Risk – Using this option slightly decreases the average winning probability but increases the maximum win amount. This mode is a balance between risk and reward and may be suitable for players who want to take some risks without going all in.
High Game Risk – This mode decreases the average winning probability, but it significantly increases the maximum win amount. Players who want to win big may opt for this mode.
Players can change the Game Risk Mode as many times as they wish before placing their bet, giving them the flexibility to choose the option that suits them best. The creators of Frog Mini Game have thought of everything to make the game simple, comfortable, and fun for players. By using the Game Risk Mode feature, players can take control of their winning opportunities and maximize their chances of winning big.
Where to Play Froggy Mini Game: Top Destinations for Gaming Enthusiasts
The game can be played at select online casinos, including MyStake. To play the game, you first need to register and deposit real money on the online casino's platform.
By playing at a reputable and trusted online casino like Mystake, players can enjoy the excitement and entertainment of Frog Mini Game while also ensuring a safe and fair gaming experience.
Getting Started with MyStake Froggy?
Getting started with Froggy Mini Game at Mystake is quick and easy. Here's a step-by-step guide on how to get started:
Start by visiting the Mystake website on your desktop or mobile device.
Register an account: If you don't have an account already, visit the website and click on the "Register" button on the homepage to create a new account. You'll need to provide some basic information such as your name, email address, and date of birth.
Make a deposit: Once your account is verified, you can make a deposit using a variety of payment methods, including credit/debit cards, e-wallets, and cryptocurrency. You'll need to choose your preferred payment method and enter the amount you want to deposit.
Start playing: With your account funded, you're now ready to start playing Froggy Mini Game. Simply navigate to the "Mini Games" section of the website and choose Froggy from the list of available games.
By following these simple steps, you can be up and running with Mystake Froggy Mini Game in no time and enjoy the excitement of online casino gaming.
Explore Other Mini Games: A Look at the Variety of Gaming Options Available
Alongside the exhilarating Frog Mini Game, MyStake presents an assortment of 12 other top casino mini games that will surely entertain any type of player.
Conclusion
In conclusion, mini game Froggy offered by MyStake online casino is a thrilling and enjoyable gaming experience. With its simple gameplay mechanics, vibrant graphics, and high RTP percentage, mini game Froggy provides players with fair winning chances and the potential to win big.
The ability to control winning opportunities through the Game Risk Mode adds an extra layer of excitement and customization to the game. MyStake ensures the safety and security of its players, with licensing, secure transactions, and a commitment to responsible gambling.
Overall, Frog Mini Game is a fantastic option for those seeking entertainment and the opportunity to win real money in the world of online casino gaming.
Frequently Asked Questions (FAQ)